These are some of our success stories:
Thermojet Technology in Ethylene Plants
THE USE OF THERMOJET CONTINUOUS LUBRICANT PURIFICATION TECHNOLOGY IN ETHYLENE PLANTS.
We show a fairly common application case in different countries when the Ethylene Compressor's seal system fails and the lubricant begins to contaminate with gases. Through the continuous purification of lubricants using Thermojet Technology, it has been possible to keep the Compressor in operation and reuse large quantities of lubricant.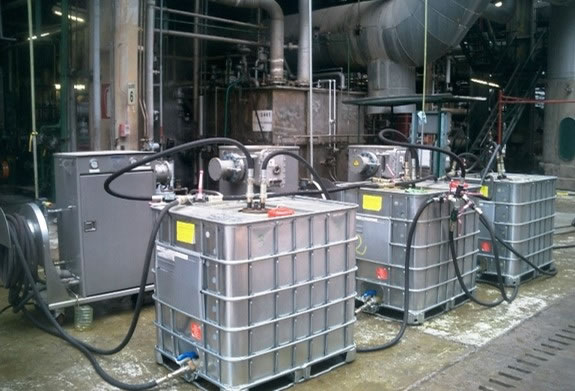 High Velocity Oil Hydraulic Flushing - Brazil
FIRST APPLICATION OF HIGH VELOCITY OLEOHYDRAULIC FLUSHING IN TURBOCHARGERS AT A PETROCHEMICAL PLANT IN BRAZIL.
A reduction in time has been achieved in the Scheduled Shutdown of Centrifugal Compressors, when performing the High Speed Hydraulic Flushing, using external pumping equipment and Reynolds numbers above 10,000.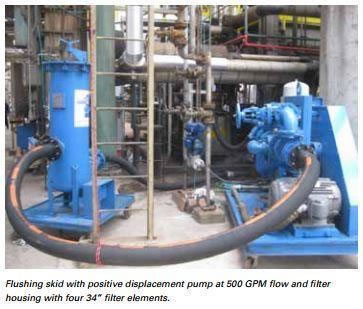 Investment in Mist Lubrication in Refineries - USA
ECONOMIC JUSTIFICATION INVESTMENT IN MIST LUBRICATION "GET THE FACTS ON OIL MIST LUBRICATION" BY HEINZ BLOCH.
Hydrocarbon Processing Magazine publication, showing the payback of an Investment in Mist Lubrication in Refineries in the United States.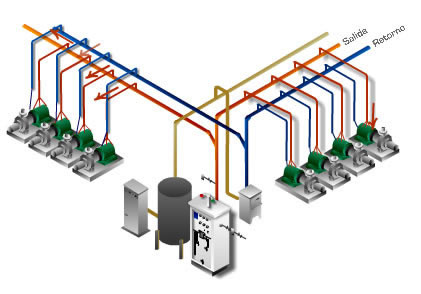 Reliability Achieved by Mist Lubrication
Chemical Cleaning and High Velocity Oil Hydraulic Flushing - Brazil
CHEMICAL CLEANING AND HIGH VELOCITY OLEOHYDRAULIC FLUSHING IN FPSO PLATFORM HYDRAULIC SYSTEMS IN THE SHIPYARD.
Our Company in Brazil, Lubritech do Brasil, carried out a series of Chemical Cleanings and High Velocity Oleohydraulic Flushing to different Hydraulic and Lubrication Systems of the P-74 Platform under construction in Rio Grande do Sul. Commissioning times were reduced, contributing to value in the FPSO Platform Assembly Chain.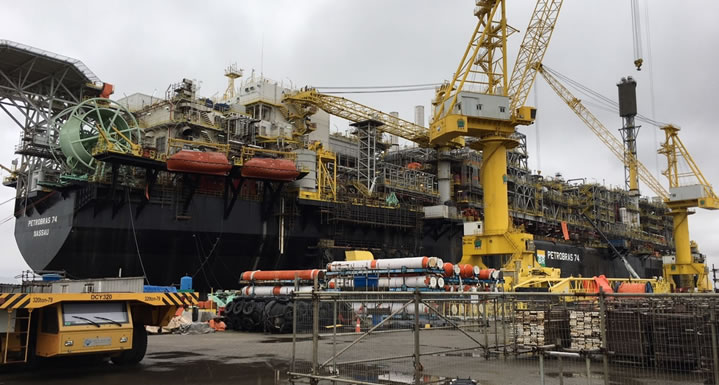 Argentina
Lubritech Argentina SRL
Calle 80 N° 175 entre 116 y 117
Villa Elvira – La Plata – CP1900 – Buenos Aires – Argentina
Tel: +54 0221 4571457 / 4212232 / 4539725
España
Sicelub Ibérico SL
Calle Bratislava 65
30353 – Cartagena – Murcia – España
Tel: (+34) 968 541 042
Cel:  (+34) 618 730 333 (sólo temas comerciales).
Brasil
Lubritech do Brasil
Alameda Plutão, 235
American Park Empresarial NR – Indaiatuba – São Paulo
Brasil – CEP 13347-656
Cel: + 55 (19) 3825-3669
México
Sistemas Centrales de Lubricación
Patriotismo 359
Ciudad de México – 03800 – México
Oficina: + (52) 55 5528 5014
Móvil: + (52) 55 3232 1991
Móvil: + (52) 55 3988 4202
Perú
Lubritech Perú
Av. Dionisio Derteano 184 Of. 603
San Isidro, Lima Perú.
Contacto: +51997519459 / +5492214854670.