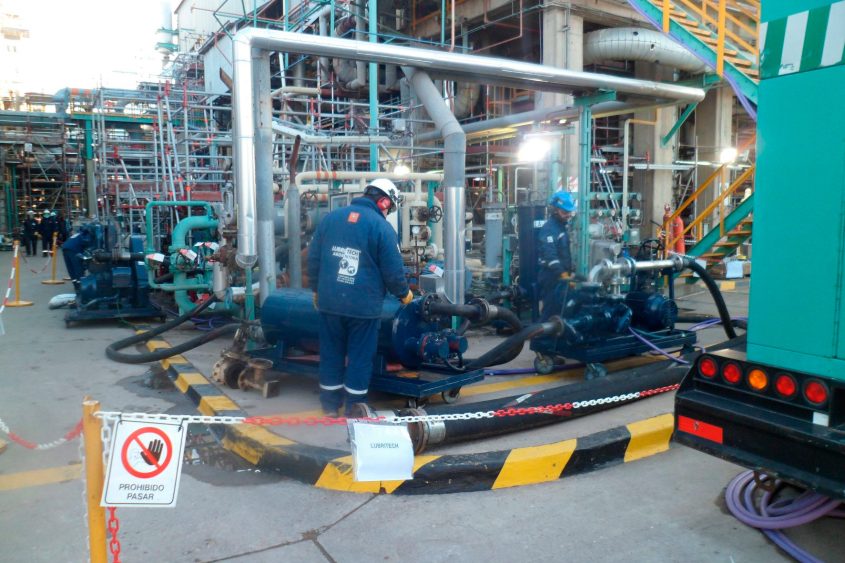 Lubritech Argentina has just performed a big flushing service during a turnaround in an Ethylene Plant in Argentina. We would like to highlight that all Sicelub Lubritech Group has a big background on this kind of rotating equipment, we have performed similar services in Spain, Brazil and Argentina.
We were awarded after an open tender process, where we were the Company that was able to propose the best schedule for flushing service, at a lower cost, and with the best safety conditions.
We performed High Velocity Oil Flushing to all lubricating and hydraulic systems of the rotating equipment.
The flushing job was scheduled by our customer in 60 days, but we were able to complete the job in 45 days. We had high flow pumps (500 GPM), we applied pneumatic vibration and heated the oil up to 60 °C.
Our team was formed by 7 field technicians, 1 EHS and 1 Project Leader (Martín Videla). We worked in two shifts, to reach the lower time for performing the service.
We would like to say thanks to our Customer and our Staff in Lubritech Argentina. Not just to the personnel in the field, but also to the Staff that supported commercially and administrative from head offices in La Plata. We would like to share some pictures with you!
https://sicelub.com/wp-content/uploads/2022/11/SAM_3913.jpg
1182
1773
Tongas
https://sicelub.com/wp-content/uploads/2020/08/silecub-lubritech-logo.png
Tongas
2022-11-02 13:54:06
2022-11-02 13:54:06
High Velocity Oil Flushing in Ethylene Plant in Argentina