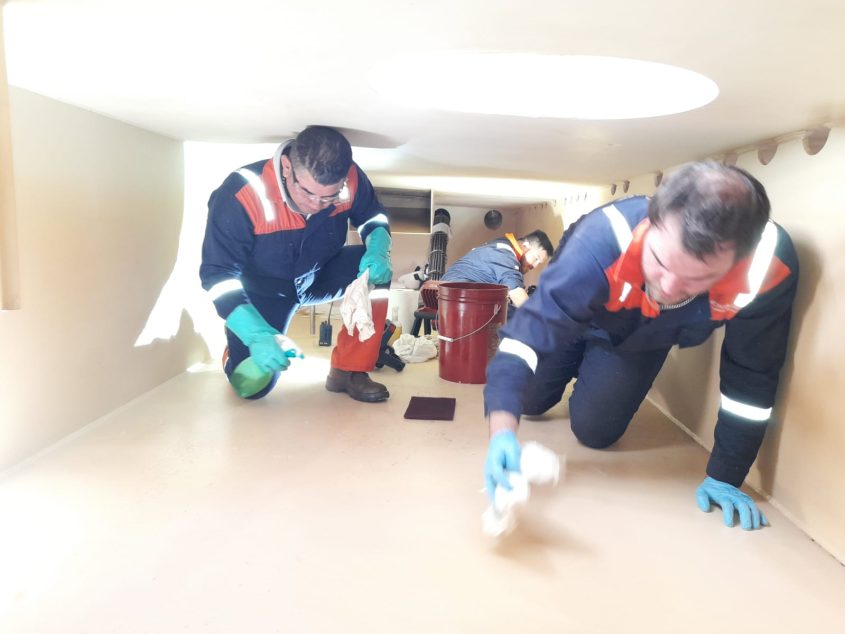 Lubritech Argentina had just completed an important job in a Power Plant in Vaca Muerta, Neuquén, Argentina. We performed a Varnish Removal Flushing Service in a Gas Turbine, model LMS-100, with more than 7,000 Gallons, ISO VG 32 Turbine Oil, 5 years and MPC close to 30.
Our Project lead was Andrés Yamín, and our Flushing Technician was Josué Buozi. They had local manpower support. When the Turnaround started, we added 350 Gallons of surface cleaner product using our Thermojet Oil Purifier. We started circulation, heating the oil, and MPC grew up to 39, which indicates that the product is getting dissolved the varnish from the system.
After 24 hours of circulation, we drained the oil, and performed tank cleaning. The tanks was impregned with an orange lay. After the cleaning, we added flushing oil, just to remove any presence of product (according to ASTM D-6439), and MPC started in 30 and finished in 13.
Finally, we added the operation new oil, and kept Thermojet Oil Purifier with a High Filtration Skid to improve oil characteristic. MPC was 6, and ISO Code improved from 21/19/17 down to 15/14/11.
We would like to say thanks for customer confidence, thanks to our suppliers, and thanks to our local technicians for performing the job with high quality and safety.
We share some pictures of our job.
https://sicelub.com/wp-content/uploads/2022/11/Verificacion-limpieza.jpeg
1200
1600
Tongas
https://sicelub.com/wp-content/uploads/2020/08/silecub-lubritech-logo.png
Tongas
2022-11-15 09:47:34
2022-11-15 09:47:34
Varnish Removal Flushing in Gas Turbine in Argentina