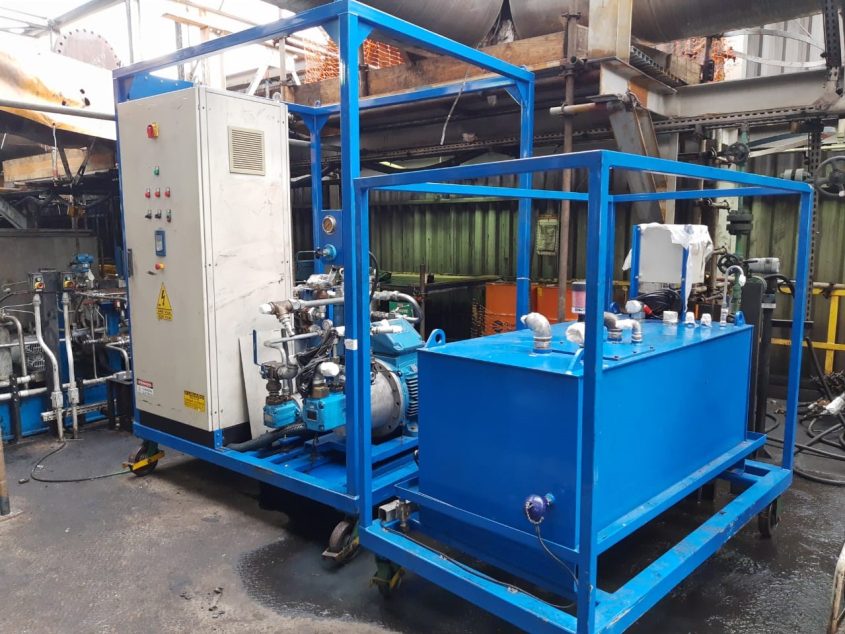 Sicelub Iberico has completed a Service in a Turnaround in a very important Refinery in Spain. We have performed several High-Speed Flushing Services in Lubricating Systems and specially in a large hydraulic system. According to ASTM and OEM's recommendations, it is important to achieve a high flow, and having in mind that piping is low diameter and large length, we need an equipment of high pressure (above 50 Bar) to perform the flushing!
All the services were performed in high Safety, Environmental and Quality based on Best Practices and Normative. OEM of hydraulic system was also performing maintenance Service in the Plant and recognizing that Sicelub has background and equipment for this kind of intervention in hydraulic systems.
We share two pictures. You can see a high-pressure skid for flushing in hydraulic systems and our conventional high-flow skid for flushing in lubricating systems.
We appreciate the help of all our involved collaborators during this project! If you want to know more about our Flushing services, you can get more information in https://sicelub.com/en/solutions-sicelub-lubritech-group/#tab-id-3-active or send an email to info@sicelub.com
https://sicelub.com/wp-content/uploads/2022/06/FOTO-F.jpg
960
1280
Tongas
https://sicelub.com/wp-content/uploads/2020/08/silecub-lubritech-logo.png
Tongas
2022-06-30 14:08:04
2022-06-30 14:08:04
High Speed Oil Flushing during Turnaround in Spain. Hydraulic System.