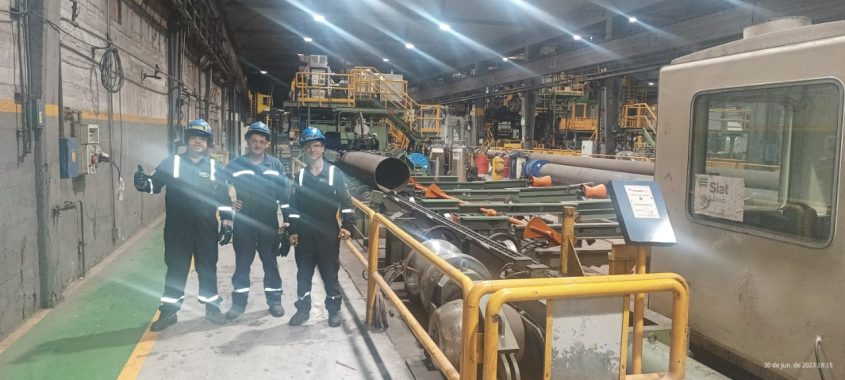 Argentina has recently started the commissioning and start up process for a new gas pipeline to transport gas from Vaca Muerta to Buenos Aires. Néstor Kirchner pipeline will allow to the country to save a lot of money from importation. The first stage of the project is ending right now.
There is a second stage for transporting the gas from Buenos Aires to Santa Fe. Maybe in the future the pipeline will allow to export gas to Brazil.
Lubritech Argentina, our local entity is proud to be participated in a key project related to this milestone. We have performed a high velocity oil flushing service in hydraulic and lubrication system of the Rolling Mill 1 x 12 where new piping will be manufactured for this second stage of the pipeline construction. We have performed this job during the turnaround for maintenance in the Rolling Mill.
The proyect was performed in more of 20 days, where we prepared all temporary jumpers, used our high flow pumps and high efficiency filters for cleaning more than 3,000 meters of piping. We have reached an ISO Code below required and this will guarantee reliable operation of the system during production.
We cleaned piping from 1/2" up to 4", and to certify cleanliness level, we performed on site particle count, using metallic meshes.
We want to say thanks to our team in Lubritech Argentina, and congratulate them for being part of this big project for the Country.
Our team in the project was:
Martín Videla. Project Coordination
Daniel Pérez. Project Leader
Technicians
Federico Ricciardi, Agustín Sena, Nazareno Marinelli, Federico Sturtz, Andrés Frezzini and Rodrigo Coppiarolo
You can see some pictures and videos of the job.
We would like to thank to our Customer and our team for their commitment. We share some pictures, and if you want to have additional information, please reach us at www.sicelub.com; send an email to info@sicelub.com; or write a WhatsApp message to +34 616 54 70 86.
https://sicelub.com/wp-content/uploads/2023/07/WhatsApp-Image-2023-07-02-at-12.23.26-1.jpeg
576
1280
Tongas
https://sicelub.com/wp-content/uploads/2020/08/silecub-lubritech-logo.png
Tongas
2023-07-14 03:00:24
2023-07-14 03:07:37
Grupo Sicelub Lubritech participation in strategic Project in Argentina