Sicelub Ibérico is performing a long-term lubrication contract in a Chemical Plant in Spain. The PADELI contract is focused on performing routine lubrication task, but with the focus on continuous improvement, using technology and specialized technicians. We know that best practices of lubrication improve reliability and availability of rotating equipment.
In the latest weeks, we performed grease lubrication using ultrasonic guns. This is a great improvement compared with manual lubrication or just "adding grease" to bearings.
On other hand, we performed MPC varnish testing in some equipment, and found high values, which indicates that varnish potential is high. Immediately, we connected an external equipment for removing varnish, and we reduced MPC from 42 down to 5, just in 2 weeks, for a reservoir of more than 1,000 Gallons.
You can find more information of our PADELI service in our web page and regarding varnish removal, Grupo Sicelub Lubritech will perform a free Webinar on September 21st.
We thank to our workforce in Spain, and we share some pictures of our job there!
/
by Tongas
https://sicelub.com/wp-content/uploads/2022/09/IMG_20220901_133148_123619.jpg
1200
1600
Tongas
https://sicelub.com/wp-content/uploads/2020/08/silecub-lubritech-logo.png
Tongas
2022-09-13 11:55:32
2022-09-13 11:55:32
Long Term Lubrication Contract PADELI in Spain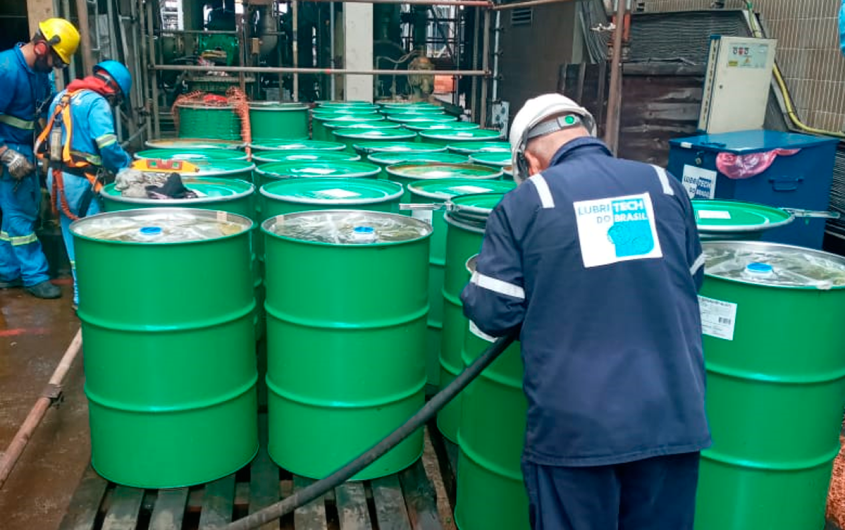 Lubritech do Brasil has just completed the first stage of Turnaround Service in a big lubricating system (more than 12,000 Gallons of Oil) of a Turbo Compressor in a Chemical Plant in Brazil. We were there working more than 15 days, and we drained the oil, performed cleaning in oil reservoir, filter and fill the new charge. We reached a NAS 4 for cleanliness!
For this job, we utilized a filtration unit of 150 GPM, with two filter elements of 34" large and an Oil Purifier for removing water.
Second stage of the job, it would be focused on decreasing varnish potential in the system. For this, we will use a liquid product for improving solvency, and a Balance Charge Agglomeration Technology for removing varnish. ISOPur.
Technicians working in that Project were:
Marcos Santos, Edmilson Oliveira, Djalma Alves, Manuel Santos, Alexandre Adão Lopes and the external support of Edson Zillig in logistic.
You can see some pictures of the job.
/
by Tongas
https://sicelub.com/wp-content/uploads/2022/09/portada.png
752
1200
Tongas
https://sicelub.com/wp-content/uploads/2020/08/silecub-lubritech-logo.png
Tongas
2022-09-08 19:40:09
2022-09-08 19:40:09
Turnaround Job in Chemical Plant in Brazil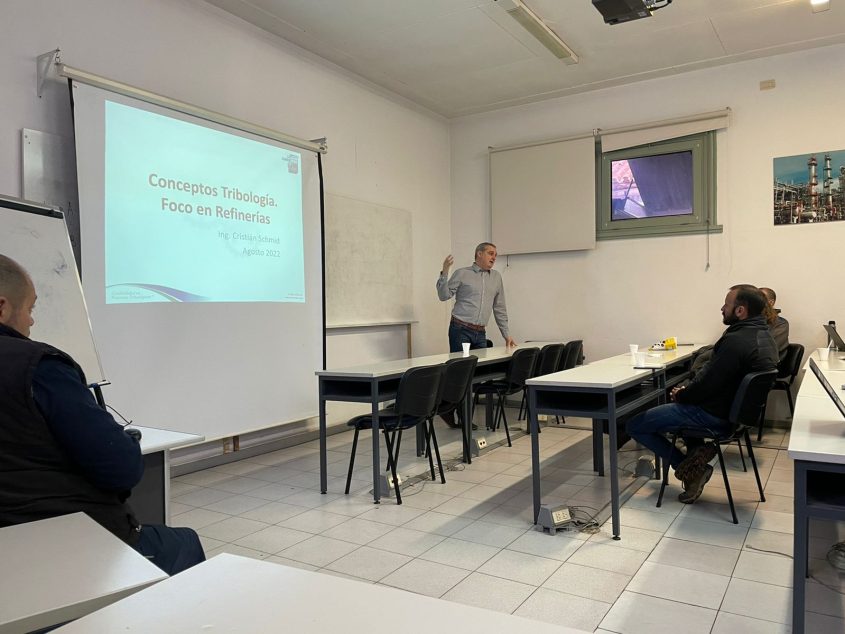 Lubritech Argentina performed a meeting with several engineers and technicians of an important Refinery in Argentina, with the purpose of sharing technical knowledge in lubrication engineering. Focus was to review some normative topics and review practical applications during the day-by-day operation in the Plant.
Topics reviewed were:
Tribology and Lubrication. Basic Concepts.
Oil Analysis Program for Equipment in Refineries.
Contamination Control Actions during Turnaround.
Oil Purification for Turbomachinery.
Revision of Normative ASTM D4378, ASDM D6439 y API 614.
Cristian Schmid performed this training, and it was an intense interchange of comments between all participants. You can review more technical information in https://sicelub.com/webinars/.
You can see pictures of the training.
/
by Tongas
https://sicelub.com/wp-content/uploads/2022/08/WhatsApp-Image-2022-08-18-at-4.15.45-PM-1.jpeg
1200
1600
Tongas
https://sicelub.com/wp-content/uploads/2020/08/silecub-lubritech-logo.png
Tongas
2022-08-30 19:07:29
2022-08-30 19:07:29
Technical meeting in Argentinian Refinery